Everything You Need To Know About Tennis Chains
If you love hip hop style, tennis chains need to be on your radar. With their seamless rows of sparkling diamonds or stones, these necklaces add show-stopping brilliance to any outfit. This in-depth guide from the experts at Manique will explore everything you need to know about tennis chains, from how they got their name to styling tips to proper care. Whether you're new to the world of tennis chains or want to expand your knowledge, read on.
What Exactly is a Tennis Chain?
A tennis chain (also called a tennis necklace) is a continuous line of identical diamonds or gemstones carefully set together to create the illusion of a single fluid row of shine around the neck. The tiny metal links between each stone are barely visible. This gives the signature sparkling effect.
Most tennis chains feature either round brilliant or princess cut diamonds. But you can also find more affordable alternatives like crystal and cubic zirconia stones. The goal is maintaining that iconic constant shine.
The Origins of the Name "Tennis Chain"
So how did this glamorous necklace get its sporty name? Here's the story:
In 1987, professional tennis player Chris Evert was competing in a nationally televised U.S. Open match. During play, her diamond line bracelet accidentally broke and fell off onto the court. Evert asked officials for a timeout so she could retrieve the bracelet.
In a post-game interview, Evert referred to the precious bracelet as her "tennis bracelet." The nickname stuck, and soon enough, designers adapted the look into diamond necklace form. And the tennis chain was born!
Why Hip Hop Loves Tennis Chains
Over time, tennis chains became coveted in hip hop fashion for a few key reasons:
They're eye-catching. The rows of diamonds provide perfect subtle bling to complement hip hop style.

The luxe diamonds and precious metals signal status and sophistication.

Hip hop artists like Run DMC were early adopters, fueling popularity through music culture.

Tennis chains work for both casual chillin' and formal events - ultimate versatility.

Customization with colored stones like our emerald tennis chain 

allows

personal expression.
For these reasons, tennis chains remain a flex-worthy staple representing the best of hip hop fashion.
Styling Your Tennis Chain Like a Pro
One of the best things about tennis chains is how versatile they are for both men and women. Here are some styling tips:
For a casual daytime look, layer a tennis chain over a simple tee or blouse. Go bigger and bolder for more presence.

Elevate evening gowns and dresses by pairing with a brilliant diamond tennis chain. Double up for extra bling.

Men should opt for low-hanging 20-24" tennis chains to draw attention. Pair with unbuttoned collars.

Make it your own with

custom-colored

diamonds or birthstone crystals matching your style.

Stack dainty tennis chains together for a glamorous statement at formal events and parties.
Caring for Your Precious Tennis Chain
Taking proper care of your tennis chain will help it shine for a lifetime:
Store it separately from other jewelry in a soft pouch to prevent scratching and tangling.

Clean every 3-6 months with a quality jewelry cleaner or mild soap and water. Use a soft brush.

Consider applying an anti-tarnish protector spray for extra protection.
Treat your tennis chain with care, and it will treat you to endless shine and style!
Make Tennis Chains Your Signature Style
For show-stopping accessories that make a statement, shop Manique's exclusive collection of luxe tennis chains. With diligent craftsmanship and a wide variety of customization options, you'll find the perfect piece to take your hip hop style to the next level.
Explore Manique's tennis chains today to discover your new favorite shine.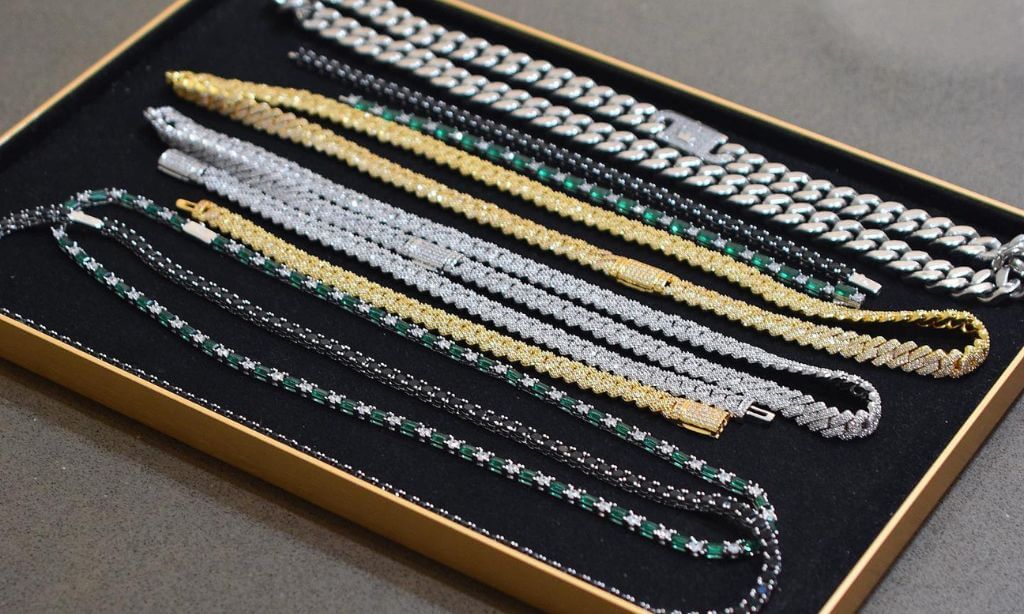 Iced Out Chains - The Complete Guide
Iced out chains have become a statement staple, thanks to their dazzling rows of light-reflecting stones. This in-depth guide from luxury jewelry brand Manique will explore everything you need to ...
Read more