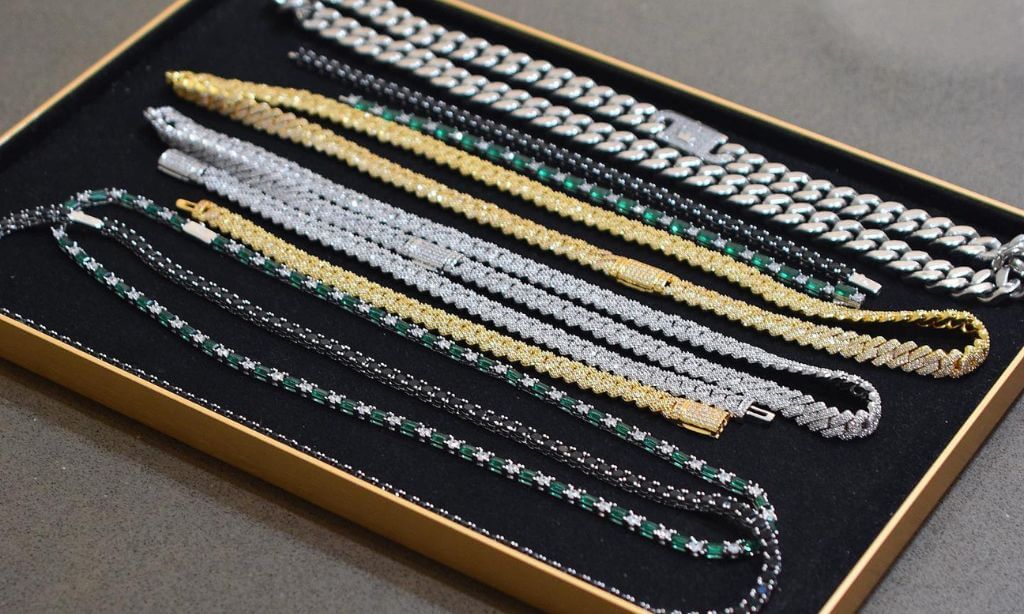 Iced Out Chains - The Complete Guide
Iced out chains have become a statement staple, thanks to their dazzling rows of light-reflecting stones. This in-depth guide from luxury jewelry brand Manique will explore everything you need to know about pulling off these shining statement pieces - from the most popular icy styles to expert styling tips and care. Read on to learn how iced out chains can amp up your swagger with blinding brilliance.
What Exactly Are Iced Out Chains?
"Iced out" refers to chains that are completely encrusted with stones across the links to create maximum eye-catching shine. Most popular are diamonds or cubic zirconia. The rows of tightly packed stones refract light brilliantly from all angles.
Top icy styles include:
Tennis Chains - Rows of identical stones sized evenly create a seamless shimmering effect.
Prong Chains - The prong setting highlights each stone individually for an angular faceted shine.
Micro Tennis Chains - A more delicate version of the classic tennis chain, with smaller stones for a subtle sparkle.
From bold and chunky to thin and delicate - iced out chains make any neck blaze with statement-making luster. The icy look gained popularity in hip hop culture but now transcends genres.
A Brief History of Iced Out Chains
The origins of iced out chains can be traced back to the 1970s hip hop scene in New York City. Pioneering artists like Run DMC and LL Cool J started donning thick gold chains covered in diamonds as displays of success. The shining chains became synonymous with status and style in the rap world.
Over time, the popularity of iced out chains spread beyond hip hop culture. Nowadays, musicians, celebrities, and fashionistas of all types rock icy statement chains to add showstopping sparkle to their look. The dazzling, light-catching effect ensures iced out chains will never go out of style.
Tips for Styling Iced Out Chains Like a Pro
Pull off your luxe iced out chain like a pro with these key styling tips:
Let chunky Cuban or rope links make a bold statement over plain tops. The prominent stones become the outfit focal point.
Opt for slim tennis or prong chains to add subtle sparkle to dresses. Stack a couple together for extra brilliance.
Pair icy chains with solid metallic tones - gold, silver, platinum - rather than loud prints. Let the shimmering stones take center stage.
For formal events, layer multiple delicate icy necklaces together to complement your look with a luxurious touch.
Change up your usual style by adding an iced out chain for a showstopping effect day or night. It becomes an instant outfit enhancer.
Keeping Your Iced Out Chains Sparkling
Caring properly for your precious iced out chains ensures the stones retain maximum fire and brilliance:
Store chains separately in soft cloth pouches to prevent scratches from other jewelry.
Clean chains every 2-3 months using a quality jewelry cleaner.
Avoid swimming or showering with your chains on.
With proper care, your cherished iced out chains will dazzle forever. Browse Manique's own collection of handcrafted designer iced out chains today to discover stunning statement pieces dripping in brilliance.